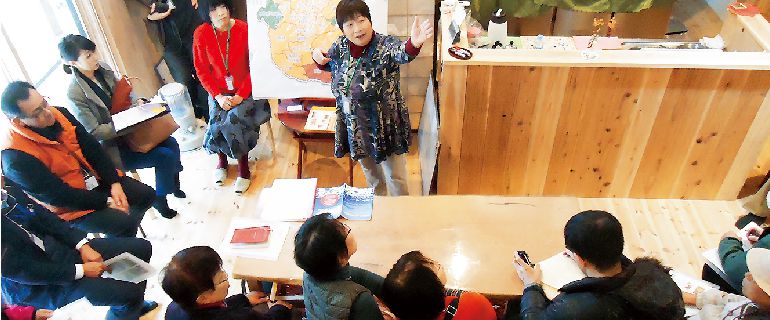 People
People

Guides
Field Partners
The overall guide who has an understanding of the current situation in the various communities the tour visits, organizes information, and encourages participants to think deeply about the situation. Responsible for being the attendant and facilitator throughout the tour.
William McMichael

Fukushima University

more

Born and raised in Vancouver, Canada, McMichael graduated from the University of British Columbia before moving to Japan in 2007 as a Coordinator for International Relations (CIR) for the prefecture of Fukushima. In 2010 he joined Fukushima University, and has since contributed to its campus-wide international strategy, assisting with the establishment of the Fukushima University International Center in 2012. Following the Great East Japan Earthquake, McMichael has endeavored to disseminate accurate information about Fukushima's situation to the world, in particular through designing educational programs that eradicate harmful rumors and train interculturally component students that can establish future bonds between Fukushima and the world. In June 2012 he founded the Fukushima Ambassadors Program, and has since hosted over 192 international students and 650 domestic students on field work and study tours throughout disaster-affected communities in the prefecture.
Guest Speakers
You can speak directly with the people currently working in Fukushima Prefecture and hear their frank opinions. Learn by hearing the real stories of Fukushima Prefecture.
I realized I had a hometown when I lost it

Ms. Tomoko Kobayashi

Futabaya Ryokan, Proprietress

more

She was working as a proprietress of Ryokan Futabaya in Odaka District (Minamisoma City) since before the disaster. The evacuation order issued after the nuclear accident forced her to live as an evacuee. When the evacuation order was lifted in July 2016, she reopened the ryokan. She speaks about the meaning in reopening a business from the perspective of a returning business owner and resident and her hometown.

Building a regional community

Mr.Hironori Shitaeda

Katsuryoku Souzousya, Representative Director

more

The disaster triggered his return to his hometown in Fukushima Prefecture. His activities are based on the concept of supporting one another through a spiritual bond in order to revitalize Katsurao Village, which suffered a severe labor shortage due to the earthquake and nuclear accident. In order to rebuild the local community, he focuses his efforts on exchange projects between the community and the Tokyo metropolitan area.

Rethinking the qualities of a leader as a result of the disaster

Mr. Tomoyoshi Oikawa

Minamisoma Municipal General Hospital, Director

more

At the time of the earthquake, he took command of the core hospital where he was deputy director, located 23 km from the Fukushima Daiichi Nuclear Power Plant. He speaks on the qualities of a leader based on his experience making decisions and facing conflicts regarding what was best for the hospital, the patients, and the hospital staff as the nuclear power plant situation worsened.

The life of a fisherman: Have as much fun as possible

Mr. Motofumi Kikuchi

Soma Futaba Fishery Cooperative Haragama Branch, Youth Advisor

more

Test operations still continue today in Matsukawaura Bay in Soma City due to the impact of the nuclear accident. Mr. Kikuchi, who serves as a leader among local fishermen, uses innovative ideas and dynamic vitality to vigorously develop, sell, and publicize processed seafood products in an effort to bring the allure back to marine products and restore people's pride in them. Find the strength and hints for overcoming adversities in the fisherman's way of having as much as possible in life.

A disaster can strike in your town too

Mr. Kazuhiko Amano

Fukushima University Fukushima Future Center for Regional Revitalization, Specially-Appointed Professor

more

Operations Manager of one of Tohoku's largest evacuation centers, "Big Palette Fukushima." He has developed evacuation center management simulation teaching materials based on actual experience with long-term support activities as a result of the never-before-experienced nuclear accident. He examines disasters from the perspective of human rights, and communicates the lessons and knowledge learned.

Town revitalization with robots

Mr. Shinichi Igarashi

Minamisoma Robotics Industry Council

more

Local metalworking companies and IT communications companies engaged in manufacturing in Minamisoma City came together to launch this council. They continue to make efforts toward integrating the robot industry which acts as the core of the Fukushima Innovation Coast Framework, and revitalizing the region. As we have come to expect that robots will be used to deal with disasters and in medical and nursing care, they are making efforts to further research and forge new technology that aim to revitalize towns with robots.