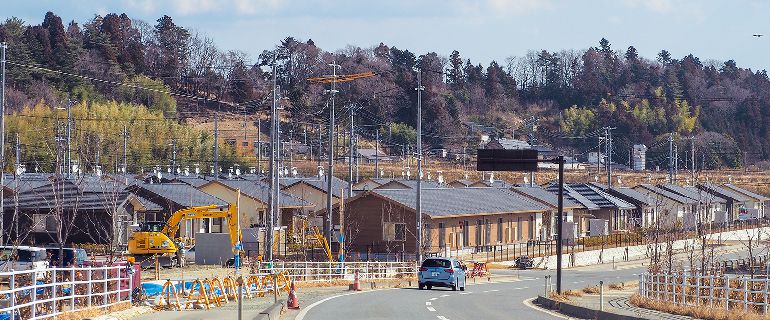 Recommended Routes
Recommended Routes 03
Recommended Routes 03
JICA Study Tour Ⅱ (People with Disabilities)
Disasters & People with Disabilities
People with disabilities tend to be particularly vulnerable at times of disaster. In fact, there is data to suggest that at the time of the 2011 Great East Japan Earthquake, the rate of mortality of people with disabilities in major disaster-stricken regions was twice the mortality rate of the population of these regions as a whole. Thus, it is necessary to implement appropriate disaster prevention arrangements and support for those with disabilities. During this tour, participants will hear about the decisions and experiences of people with disabilities, and those close to them. Participants will also gain knowledge about the support made available to people with disabilities, and the subsequent lessons learned.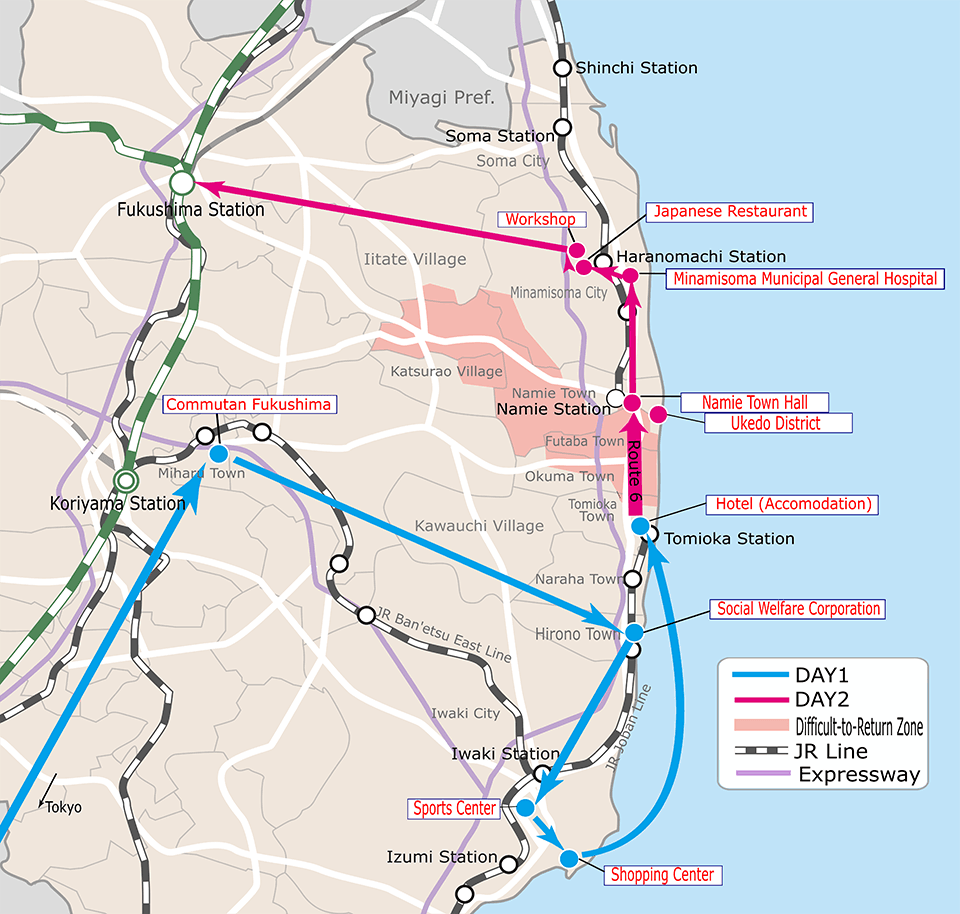 DAY 1
7:30

11:30 - 12:30

Commutan Fukushima, Fukushima Prefecture Centre for Environmental Creation (Miharu Town)

Learn an overview of the Great East Japan Earthquake and Nuclear Accident.

14:00 - 15:15

Social Welfare Corporation (Hirono Town)

Listen to thoughts on evacuation and return from the perspective of a social welfare facility.
Guest Speaker: Representative from a social welfare facility

16:15 - 17:30

Sports Center (Iwaki City)

Listen to a first-hand account of what a person with disabilities experienced during the disaster.
Guest Speaker: Wheelchair Sports Athletes

18:00 - 18:45

Shopping Center(Iwaki City)

Dinner

20:00

Hotel (Tomioka Town)

Stay in a hotel built by people who met each other in the place they were evacuated to.
DAY 2
8:00

Leave The Hotel

Pass through Route 6 (partial difficult-to-return zone)

8:30 - 10:30

Namie Town Hall (Namie Town)

Hear about the government's efforts toward people with disabilities during disasters.
Guest Speaker:Namie Town Hall Officer

Ukedo District (Namie Town) Guided Visit

Tour the Ukedo District which was the victim of major tsunami damage.

11:00 - 12:30

Minamisoma Municipal General Hospital (Minamisoma City)

Hear about the management of medical sites at the time of a disaster.
Guest Speaker: Dr Tomoyoshi Oikawa from Head of Minamisoma Municipal General Hospital

12:40 - 13:40

Japanese Restaurant (Minamisoma City)

Enjoy a lunch that features local products.

13:50 - 16:15

Workshop (Minamisoma City)

18:00

Arrive at Fukushima Station